Being an ardent gamer isn't easy when you are primarily on a budget. And if you are a gamer on a budget who wants a lag-free, premium gaming experience, then Nvidia has got you covered with its RTX 4070 Ti. A mid-range GPU can be ideal for gamers who can't afford to spend too much on graphics.
Though the price of the GeForce RTX 4070 Ti starts at $799, the specs this GPU has to offer are simply commendable. All in all, the 4070 Ti is worth investing in if you want to get yourself the best GPU on a budget.
So what are the specs and features that make the GeForce RTX 4070 Ti worth buying? We will discuss everything you need to know about the RTX 4070 Ti. Let's get started!
Geforce RTX 4070 Ti
The GeForce RTX 4070 Ti is faster than GeForce RTX 3090 Ti and consumes nearly half the power. And for a price tag of $799, it can't get any better. The RTX 4070 Ti will tend to max out your 1440p monitor.
THAT'S NOT ALL! With this GPU, you can enjoy games like Warhammer 40,000: Darktide, A Plague Tale: Requiem, and many more, all at 120 FPS. If that's not enough for you, then you must know that you can also enjoy some of the most awaited upcoming titles of 2023 at their very best with the RTX 4070 Ti.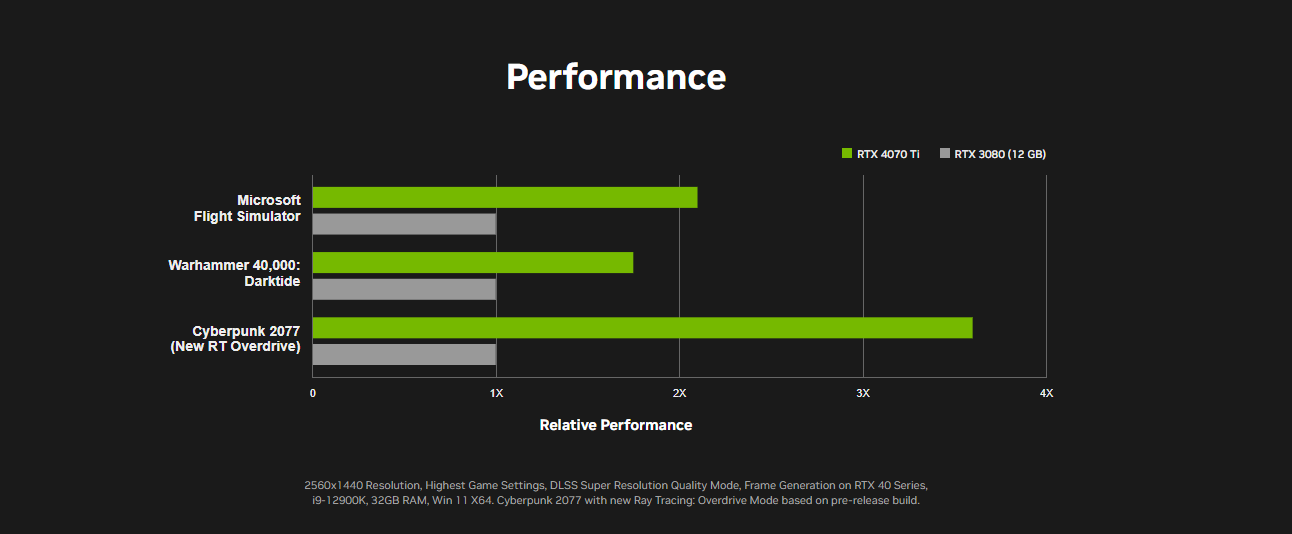 The GPU offers advanced ray tracing in games like The Witcher 3: Wild Hunt, Cyberpunk 2077, and other notable ray-traced titles. The GPU is perfect overall for PC gamers thanks to its 12 GB of lightning-fast GDDR6X memory and 7680 CUDA Cores.
So if you currently use the GeForce RTX 2080 or GeForce GTX 1080 Ti, then the GeForce RTX 4070 Ti is the upgrade that offers you more than you can ask for.
Power Requirement and Streaming
If the perks and price tag mentioned above didn't quite impress you, then be prepared to be astonished by features you won't find in any other mid-range GPU. The GeForce RTX 4070 Ti supports Nvidia's latest Tenser cores and RT, which is more potent than previous GPUs. The GPU supports additional features like Nvidia DLSS 3 and Displaced Micro-Meshes.
The power requirement for the GeForce RTX 4070 Ti is 226W, whereas the GeForce RTX 3090 Ti consumes 398W. It can be concluded that RTX 4070 Ti consumes 43% less power on average. And it's not all just for gaming; the GPU also has a lot to offer for video editors and live streamers with its next-generation Codec, the AV1! If you want to calculate which power supply you should pair with the 4070 Ti, you check use this free power calculator to find that out!

Streamers will now be able to stream at a higher resolution and with a better frame rate. And thanks to AV1 encoding, premium video editing software like Adobe Premiere Pro, DaVinci Resolve, and many more can be used. With the RTX 4070 Ti, video editors will have two times more export speed.
Moreover, 3D creators can now have a 70% increase in performance when compared to RTX 3070 Ti. This means applications like Blender, Unity, etc., will run smoothly without making the user feel limited.
Conclusion
If you are someone who's looking for an upgrade and can go slightly above $500 so, instead of wasting your money on any other GPU, get yourself the GeForce RTX 4070 Ti and experience the difference.